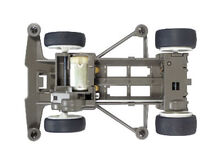 FM Chassis
(
Japanese
:
FMシャーシ
,
Efuemu Shāshi
) is a Mini 4WD Chassis released by Tamiya in December 1990. It is first seen with the release of
Crimson Glory
 and is the first chassis to have motor placed on other place other than on the rear. The 'FM' stands for both 'Front Midship' and 'Front Motor'.
General info
Being having motor place on the front, the chassis have the weight distribution of 75 front and 25 rear. This led it to have better stability in the circuits with up-down paths. It has the wheelbase of 83 mm, longer than that of Type-2 Chassis.
It use the orange crown gears and the 2 mm width propeller shaft.
However, due to the front bumper design being based on Type-2 and Type-4, it is prone to breaks so the use of reinforced plate is requires. The battery teminal in the rear can easily bends due to the badly designed rotating-type battery switch, and as a result the car could turn itself off while running.
Compares to other chassis at the time, the peformance is similar to Zero Chassis, except one: it has the poor acceleration performance and is worse than the other long-wheelbase shaft-driven chassis.
The design of the FM Chassis would later re-used in Super-FM Chassis.
Technical info
Chassis Data
Length
132 mm
Width
86 mm
Wheelbase
83 mm
Ground Clearance
7 mm (With large-diameter wheels)
Driveshaft Length
60 mm
Compatible Gear Set(s)
5:1
4.2:1
4:1
Roller Down Thrust Angle
0 (Earlier mold)
5 (Current revision)
Terminal Type
B-type
Weight
With batteries


113 g
Chassis Stats
Toughness
3
Acceleration
3
Cornering
3.9
Stability
2.9
Adaptability
3
Ease of Maintenance
3
Gallery
Trivia
Despite being the predecessor to the Super-FM Chassis, the bodyshells made exclusively for it are not compatible with the original FM Chassis.